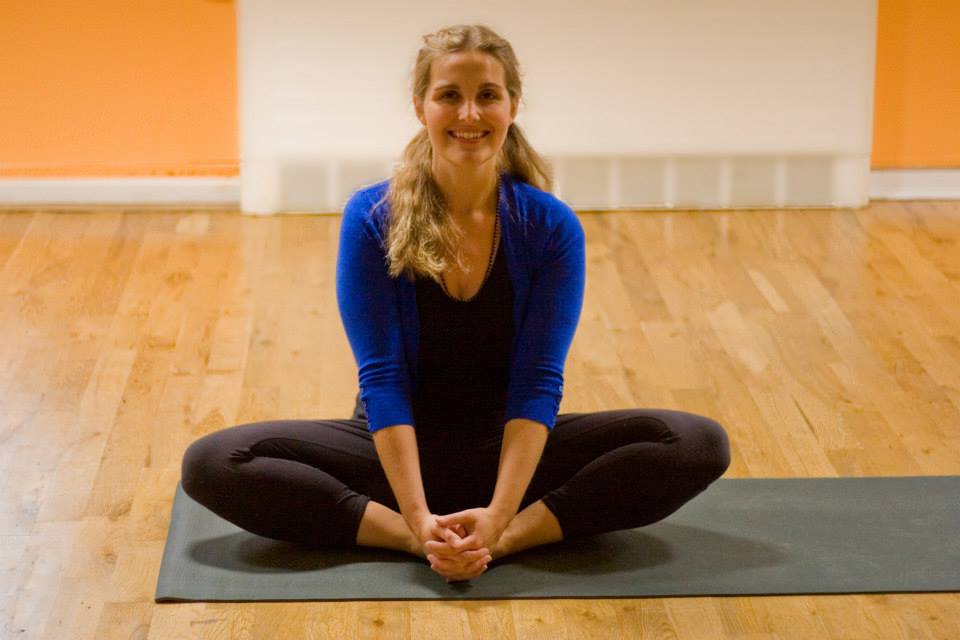 Julie Bolitho-Lee
Yoga Teacher - Oxford
Julie teaches Kripalu yoga which focuses on a mindful practice of developing non-judgmental awareness-or witness consciousness-of body, mind and spirit.
At Julie's classes you can also tell she is an accomplished writer because her lyrical, poetic descriptions of the postures and practices are really beautiful to listen to. She teaches with passion, grace and a commitment to her students.
Find our about her classes, her work with ACUYOGA and her passion for teaching yoga >
Can you share some thoughts on your experience of the ACUYOGA Programme?
Well, I think James is great and I keep telling my students about him.
I participated in his initial acupuncture/yoga trial and I couldn't believe the difference in flexibility to my hips in particular. Like everybody, there are certain parts of my body that are naturally less flexible or store more tension than others. James' ACUYOGA did wonders for my practice as far as being able to open my hips and go deeper into related postures.
I highly recommend the ACUYOGA programme to anyone hoping to improve their flexibility.
How would you describe the style of yoga you teach?
I'm a Kripalu trained yoga teacher and feel very blessed to be offering Kripalu classes in Oxfordshire, as at the moment, I'm the only one! The word, "Kripalu," comes from the Sanskirt root word, Kripa, which can translate as compassion or grace, and it is from this space of compassion that my teaching emanates. Kripalu yoga focuses on a mindful practice of developing non-judgemental awareness--or witness consciousness--of body, mind and spirit, and like most forms of yoga, it also focuses on breath awareness and merging breath with movement.
The practice ultimately enables the body to move more freely, while simultaneously giving the mind a much needed break. I wouldn't call it dynamic or static yoga, but a mix of the two - and every class is different! We're always exploring new things in class, and I encourage my students to really sink into their bodies and experiences and let it be their time on the mat--I'm just a guide.
What advice would you give to someone starting yoga?
I would encourage someone to try a variety of teachers from many different venues/studios. Often, I think, the teacher is more important than the "brand" of yoga they teach - so try many teachers and find the ones that work for you... and then don't be afraid to grow. There are times when certain teachers will serve you greatly, but you might find you move away from them at a point and are drawn elsewhere. This is more than okay! You might later return too.
It's all lila, or divine play. Be in it. Be present. Visit as many classes as you can, and most importantly: Be kind to yourself. There is no such thing as a perfect posture. Each body is unique--try to embrace and love yours, hard as that may be. Teachers are not there to judge you; at their best, they're there to love you.
What do you love most about practicing yoga?
Oh, where to start!? I started doing yoga ten years ago when I had thyroid cancer and lived a rather unhealthy lifestyle as a nineteen-year-old from the Midwest in America. Yoga brought me grace in the form of body awareness and compassion.
A little secret: I still struggle, like most of us, with loving my body. Yoga has helped me to not only live in gratitude, but to also accept the ways I struggle. Beyond all the known benefits to the body and mind, this living in gratitude is possibly "what I love most" about it. I feel blessed every day.
How might a student describe you as a teacher?
Ha! I think my students would probably describe me as both a kind and sometimes silly yoga teacher. I probably make at least one joke in every class - sometimes to a laugh and other times not! Ha! More seriously though, I am an earth-driven teacher as far as the imagery and language I use in class, and I have been told that people have fallen in love with yoga again after coming to my class (the greatest compliment ever!) because it is a class rooted in kindness and mindfulness. There is no competition to look or be a certain way - even with yourself. Everything is okay. I hold this space, but my students maintain it.
When, where and how much are your classes?
Tuesdays: Drop-in at the Eynsham Hall Gym. 6:30pm - 8pm. (£5 drop-in or gym members free.)
Wednesdays: Drop-in from 7pm - 8:30pm at the South Oxford Community Centre in the main hall (upstairs). £7 adults/£4 students.
Thursdays: Women's-only drop-in at Wild Honey. 6pm - 7:30pm. (£12 drop-in; £10 with block discount).
Sundays: Drop-in from 11am - 12:30pm at the South Oxford Community Centre in the main hall (upstairs). £7 adults/£4 students.
Sundays: Aerial Yoga from 2pm - 3:15pm and when available 3:30-4:45pm at Yoga Garden in Summertown. £16. Pre-booking required as space is limited.